Lodging in Dover, Delaware
Looking for lodging in Dover, Delaware for an extended period of time? Rest comfortably and have all that you need at your disposal in any one of our 92 guest rooms! Offered in either smoking or non-smoking options, our spacious rooms boast well-appointed and thoughtful amenities that ensure your stay is stress-free and you always feel right at home.
Find all the essentials you need in our hotel suites in Dover, Delaware, such as a hair dryer, safe, ironing board, and free toiletries, in every one of our guest suites. If you're looking for that extra touch of comfort, we have select suites that come with extra sofa beds, hot tubs, and other welcome amenities!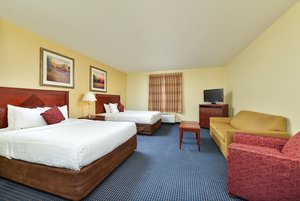 Extended Stay & Group Blocks
In town for business or a sports tournament? Featuring kitchenettes, sofa beds, and more, our lodging Dover, Delaware is well-equipped for extended stays and group room blocks. Conveniently located near the Dover Air Force Base and DE Turf Sports Complex, you and your whole group can enjoy a restful night's sleep before enjoying easy travels to get to wherever you need to be in Dover.

If you're looking for lodging in Dover, Delaware, no matter how long your stay, book with us today and get the most out of your time here in Dover!