Dover Air Force Base Hotel
If you happen to be searching for Dover Air Force Base hotels in Delaware, look no further and book a comfortable, spacious guest suite at our hotel that has an arrangement of attentive amenities to give you the best accommodation, no matter how long your stay! Located in the "First State," the Dover Air Force Base is home to the largest aerial port and close to 9,000 Airmen and joint service members, civilians, and families.
The Air Mobility Command Museum
Nestled within the 3,700-acre air force site is the Air Mobility Command Museum. Formerly "Hangar 1301," a building complex where secret military operations took place, this museum is dedicated to showcasing the history of military aviation through an impressive collection of planes that have played pivotal parts during the great wars, along with other fun exhibits! Here are a few must-see attractions you won't want to miss: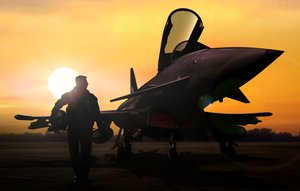 Control Tower – Close your eyes as you listen to the static and crackle from the live radio chatter broadcast within the control tower, bringing you back in time to when the tower was in service 50 years ago! Find yourself at the top of the tower, captivated with the view of the museum's planes, and watch arrivals and departures on the base's runways and taxiways.
Commemoration Park – The Dover Air Force Base's mission is not only to safely fix and fly aircraft, but also to return America's fallen with "dignity, honor, and respect." Just outside the museum, the Commemoration Park was built to honor veterans and house artifacts, and is open to visitors who wish to view and pay their respects.
Aircraft Simulators – Kids will love this one! Strap into an interactive flight simulator and test your flying skills as you step into a virtual aircraft and launch up, up, and away into the sky!
Board the Aircrafts – Don't just stand in awe at the 30+ various aircrafts when you can actually board them! Step into America's aviation history and get a closer look inside cargo haulers, fighters, helicopters, and even a presidential aircraft!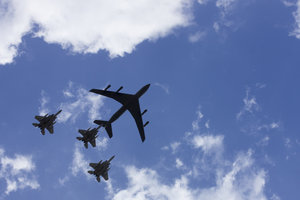 Museum Directions
From our hotel close to Dover Air Force Base, it's easy and fast to get to the Air Mobility Command Museum. We're only a 10-minute drive to the base, just follow these simple directions!
Turn left on S Bay Road and Take DE-1 S to DE-9/Bayside Drive.
Take exit 91 from DE-1 S. Follow DE-9/Bayside Drive and turn into Heritage Road to reach your destination.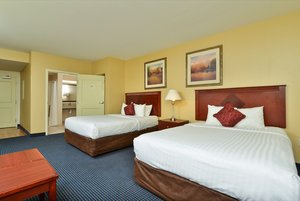 Feel at Home
A close, hidden gem to our hotel, the Dover Air Force Base is the perfect attraction for aviation enthusiasts, military members and their families! We're dedicated to ensuring our hotel is your most comfortable home base near the Dover Air Force Base. Surf the web using our free Wi-Fi, unwind in our spacious, apartment-style guest suite with a kitchenette, or stay extra warm in our indoor heated pool.
Make the most of your trip to the Dover Air Force Base with all we have to offer—whether it's a short or extended stay—and guaranteed discounts for military workers!

Book your comfy and spacious guest suite at our Dover Air Force Base hotel, and immerse yourself in the nation's only institution dedicated to aircraft and military aviation history!